Group Hypnosis and Family Hypnosis Sessions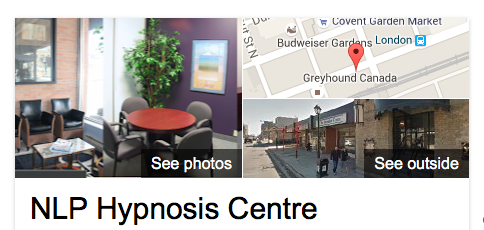 Group Hypnosis and Family Hypnosis Sessions.
English: nlphypnosiscentre.ca
Spanish: hipnosis.ca
Phone: 519-495-6405.
ohidalgo@nlphynosiscentre.com
Business Hours: Monday to Friday. 9AM – 5PM.
Home visits available during business hours and Saturdays and Sundays, 1-9PM. (Same rates within London area).
Session cost for individual is $75+HST/hour. If you pay for more than one session at the time you get a discount.
The regular cost for group sessions:
2 people: $37+HST/person/hour.
3-8 people: $25+HST/person/hour.
We are willing to negotiate depending of the number of participants and the group focus. The cost could be reduced to a minimum of $14+HST/hour/person for low income families, non-profit organizations, veterans, seniors and students. It all depends on what do you want to do or accomplish.
In our office at 151B York Street, London, Ontario, Canada. Maximum: 8 people.
At your home, office or business. No maximum.
Generally speaking. You will learn what hypnosis is. How it feels. How it can help you. Learn to relax. Learn techniques for stress reduction.
Have fun if that is your goal. Have fun and learn techniques to help you reach your goal.
For small groups, 2 to 8 people. If a member of the group is not able to experience hypnosis … it is FREE for him or her.
Similar to my guarantee that if you visit my office or I visit you at your home or business and you do not go into Hypnosis, I will refund your money, 100%.
NLP Hypnosis Centre YouTube Channel
www.youtube.com/c/OlivierHidalgo
NLP Hypnosis Centre. London, Ontario. Canada.
Hypnosis – Consulting Hypnotism – NLP – Mindfulness Meditation – Reiki. Powerful techniques to help you reach your goals.
Olivier Hidalgo. CCH. NLPMP. NLPC. HNLP.
Certified Consulting Hypnotist. Certified Life Coach. Certified Neuro Linguistic Personal Coach. Certified Neuro Linguistic Master Practitioner.
Certified in Humanistic Neuro Linguistic Psychology. Certified in Time-Based Techniques. Certified in Ericksonian Hypnosis. Certified in Smoking Cessation Hypnosis. Certified Reiki Master.
Member of National Guild of Hypnotists (NGH), NLP Global Standards and International Society of Hypnosis (Spanish).